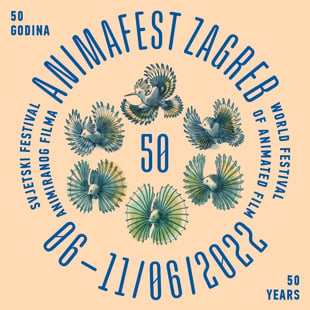 SIDE EVENTS | EXHIBITIONS
BEHIND THE SCENES 4
MUSEUM OF CONTEMPORARY ART
12/05 – 12/06
TUE–FRI 11:00-19:00
SAT–SUN 10:00-18:00
The group exhibition Behind the Scenes, which for the fourth time at Zagreb's Animafest presents the works of those authors whose films were selected for the competitions of short and student films, for its special anniversary edition, becomes part of the most elaborate, largest and most luxurious exhibition set-up which is presented for the first time in the Museum of Contemporary Art in Zagreb as part of the festival's 'side events'.
Guided by the idea of promoting a broader presentational platform of animation that would offer the audience an insight into the background of the artistic process and reveal some of the most interesting 'making of' moments in terms of work-in-progress stages that preceded the completion of the film, the concept of this exhibition project has over the past four festival editions significantly expanded and improved.
From the very initial idea of an illustrative exhibition with an emphasis on the presentation of diversity and variety of techniques, ideas and authorial approaches behind the selected titles in the Grand Competition with barely fifteen participants who exhibited in 2019 in the Gallery on the first floor of the KIC, the exhibition grew incredibly and despite the limited pandemic conditions in the next festival editions it was supplemented by a selection of works by the authors from the Student Film Competition (2021), significantly expanded and profiled in terms of the inevitable festival practice of promoting animation in galleries.
Based primarily on the hypothesis of freedom of choice where each author was invited, upon confirmed participation, to cede their works to curatorial examination, the exhibition Behind the Scenes again in 2022, for the fourth time, as a rounded-up exhibition unit provides an insight into the magic of what stands in the background of the making of an animated film.
Out of 47 film titles, i.e. their authors selected for the so-called Grand Competition Short Films and 45 titles from the Animafest 2022 Student Film Competition, a total of 54 accepted the invitation and sent to Zagreb to a maximum of five works, responding to the initiative to take part in a group exhibition, offering insight into a wide range of works from paintings, sketches, drawings, prints, cut-outs, to parts of set design, models, studies, storyboards, all the way to specific installations and multimedia, which will be on view from 12 May to 12 June 2022 at the Museum of Contemporary Art.
With this, fourth in a row, Animafest's group exhibition of most diverse works of art, expressions and techniques, we have quite certainly established a continuity of regular animation exhibiting in galleries, with a wish that in the upcoming festival editions we present, analyse and re-examine animation and its authors, both as legitimate participants in cinema film programmes and in the light of contemporary curatorial practices in a truly specific space of a long desired and dreamt Museum of Animation, something that Zagreb – as a city of animation – truly deserves.
Paola Orlić