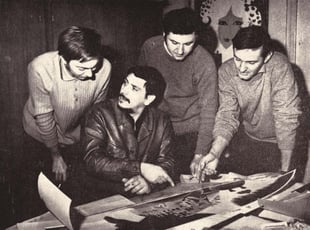 MASTERS OF ANIMATION | Croatian Animated Film 1972
Croatian Animation 1972
Zagreb School's 'fatigue', as the critics benevolently dubbed the period, continued well into 1972, after the leading creative names left animation. Vatroslav Mimica returned to fiction film, feeling that in animation he had (successfully) met his creative curiosity, and Duško Vukotić decided to direct all his creative exploratory urges to live action film. Besides, after the sensational Oscar in 1962, the official public opened his doors to politics and soon made him a member of the Federal Committee.
The directors who didn't work on the Balthazar serial and former non-directors (animators, set designers, assistant directors etc.) were then left to carry out the programmed artistic animation. That way they got a chance to demonstrate their creative capabilities on shorter film titles. They included two soon to become significant Zagreb School filmmakers, Pavao Štalter (The Horse and The Cube) and Zdenko Gašparović (The Umbrella).
Other senior filmmakers by then hadn't yet completed the films in their programmes, which would be released the following year. The artistic reputation of Zagreb's animation was saved by Nedeljko Dragić with his film Tup-Tup, which will, among other international recognitions, win an Oscar nomination in the year to come.
Animafest 2020 will present a programme of animated films made in Zagreb in 1972, as an illustration of Zagreb School's eventful evolution.
Borivoj Dovniković Bordo