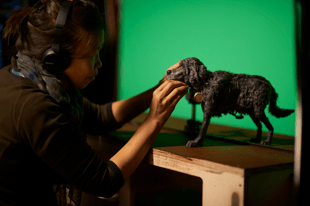 ANIMAFEST PRO | MASTERCLASSES
Kim Keukeleire: Character stop-motion animation: Working on Isle of Dogs
09/06 SAT 11:30 h TUŠKANAC
In English, free admission.
Through a few Isle of Dogs clips I will try to describe how it was to work on this film. What is Wes's animated world like, the challenges, the specificities of Wes's style, what my work as the lead animator was like, and how I came to work in stop motion feature.
Kim Keukeleire is an animation director and lead animator based in Belgium and specialised in stop-motion animation. After finishing her master's degree in Animation Cinematography and Videography at the Enseignement National Supérieur des Arts Visuels (ENSAV) de La Cambre in Brussels in 1992, she has been working locally and abroad for several companies such as Passion Pictures, BBC Animations, Aardman, Cosgrove Hall and Will Vinton Studios (former Laika). Amongst others, she animated on Chicken Run (Nick Park and Peter Lord), Fantastic Mister Fox (Wes Anderson), Frankenweenie (Tim Burton), she was the animation director on the recently Oscar-nominated French animation features film My Life as a Zucchini (Claude Barras), and she was the lead animator on Wes Anderson's new stop-motion feature film Isle of Dogs, shot in London.