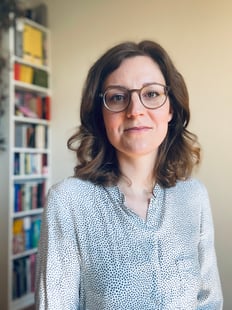 ANIMAFEST PRO | ANIMAFEST SCANNER VII | SIMPOZIJ O SUVREMENOJ ANIMACIJI | Panel 1 - HEAVY LIKE THE WORLD: ANIMATION IN THE WORLD OF CHAOS
When We Look Closer, We See Chaos: Contemporary Animation and Microscopic Vitality - Vera Schamal (Department of Film Studies, University of Zurich, Switzerland)
This talk will approach chaos as an observable phenomenon in nature and how contemporary animation creatively reiterates our knowledge of tumultuous vitality, particularly the inherent chaotic movement at the microscopic level. The animated projects discussed in this talk address chaos and contingency as concepts in art, science and society, hence referring also to the chaotic world we live in today. This talk will mainly focus on a project generating animation through algorithms, which are themselves constituting unpredictable black boxes, hence the perfect chaos.
When Scottish botanist Robert Brown was investigating plant pollination on the microscopic level in the summer of 1827, he discovered a peculiar phenomenon. The particles of the pollen immersed in water were "very evidently in motion." He described the movement of these particles as spontaneous, erratic, we could say: chaotic. His observations capacitated a new way of thinking about matter which included the assumption of a fundamental movement inherent to all things. Only at the beginning of the twentieth century however, the theoretical foundation for this molecular motion (later named «Brownian motion» after its original discoverer) was given by Albert Einstein. Closely related to this, a conceptualization of reality as constantly moving was developed in philosophy (namely by Henri Bergson) and static concepts of knowledge were challenged.
As Hannah Landecker shows, Microcinematography plays a crucial role in this shift of the way of thinking about matter, nature and life and it closely links filmic animation with the perpetual "vitality" (as Brown calls it) that constitutes all matter, but stays invisible to the naked eye. In this talk, I will attempt to trace this idea of inherent vitality of matter to contemporary animation, to show the affinity towards chaos and spontaneity within the imagery of these computer-based works of art. Projects like HELLO WORLD (Kazumasa Teshigawara, JP 2010-2017) show in what way animation can generate chaos and how chaos can generate esthetics while visually and ontologically referring to microscopic phenomena. These animated projects also address contemporary society and communication, seemingly ordered by digital data and algorithms, which actually contain more chaos than we can grasp.
Vera Schamal is an assistant and a doctoral candidate at the Department of Film Studies in Zurich. She is currently working on a thesis on contemporary animation, dealing with natural phenomena, in other words animated projects situated between art and science, nature and theory. Other research interests include aesthetics and film theory, philosophy and media theory, theories on movement, vitality and abstraction. At University of Zurich, Vera Schamal teaches courses in film studies, for example on the topic of media correlations between television and cinema along with their sociopolitical and historical implications. As part of the celebration of the Department of Film Studies' thirtieth anniversary in autumn 2019, she co-organized a lecture series dedicated to the founding year of the department.